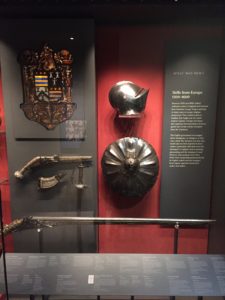 Tucked into one of the less-visited corners of London's Victoria and Albert Museum, you can find an exhibit that sheds light on one of the most relevant aspects of the Common Good — the stranger.
A lot of our discussion about immigration and the common good reminds us of what the Bible says about how to treat the "stranger." Those of us who believe that an immigrant is deserving of the respect and dignity of all other human beings point out how often the Bible demands good treatment of "the stranger." The King James Version of Matthew 25 quote Jesus, "I was a stranger and ye took me in."
Let's add some clarity to that discussion by putting those words in their English context.
When the scholars who published the King James Version translated the Bible, they sought to put it in comprehensible language for their times. People really did say, "Thee," "Thou," and "Thine." Contrary to what my grandparents taught me, those were not the fancy words to be spoken to the king. They actually were the familiar, informal versions of "you" and "yours."
In the V & A, a case showing off armor and other metal work, including a small shield with a pistol jutting out of its middle, shows how England imported skilled workers from other parts of Europe to improve their craftsmanship. The museum explains:
Between 1500 and 1600, skilled craftsmen came to England and Scotland from Northern Europe, France, and Italy. . . . The English government encouraged these immigrants, or 'strangers' as they were called. The intention was that they would pass on their expertise to local makers, particularly skills that we less developed in England, such as printing, glassmaking, and the inlaying of wood. However, their products were often better than comparable goods produced by English makers and the 'strangers' faced regular opposition from local makers and traders."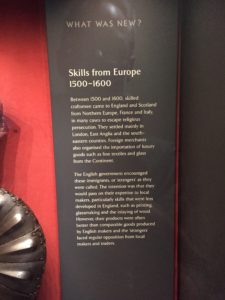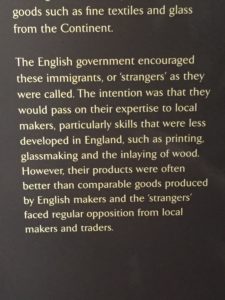 The people who produced the King James Version of the Bible lived in a world where the word "stranger" literally meant "immigrant." They also knew that those immigrants faced hostility and discrimination. So, when they rendered Jesus's word as "stranger," they were evoking a specific connotation that spoke to readers of their time.
When Jesus tells us how to treat the "stranger," to think "immigrant," or "immigrant facing hardship," or even "despised immigrant," is exactly what those verses call us to do.